TFF PressInfo # 427: Is the nuclear taboo waning?
Revisiting Hiroshima in Iran – Tragic news that US citizens accept nuking non-combatants
By Gunnar Westberg, TFF Board
Opinion study tells that a majority of US citizens accept killing 2 million civil Iranians if it could save 20.000 US soldiers there.
Plus links to urgently important articles about US-Iran relations and the nuclear deal.
This is TFF PressInfo # 427.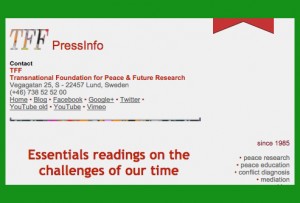 Dear friends of this aggregator
Yes, I intentionally removed Newsbud from the aggregator on Mar 22.
Newsbud did not block the aggregator, although their editor blocked me on twitter after a comment I made to her
As far as I know, the only site that blocks this aggregator is Global Research. I have no idea why!!
Please stop recommending Newsbud and Global Research to be added to the aggregator.