You are here
Turkey Launches Operation Peace Spring
It was always going to come to this. The removal of the Usrael Kurds from the area was and is the ONLY resolution to the Syrian situation. Idlib will and has been in the process of being resolved. There are countless posts here covering that topic.
 If Turkey becomes less stable it will worsen everything for Syria. Iraq and Iran. Why people don't grasp this basic bit of common sense? I don't know?
1- Turkey announces offensive:
Erdogan tweeted the mission is designed "to prevent the creation of a terror corridor across our southern border, and to bring peace to the area" and preserve Syria's territorial integrity and liberate local communities from terrorists."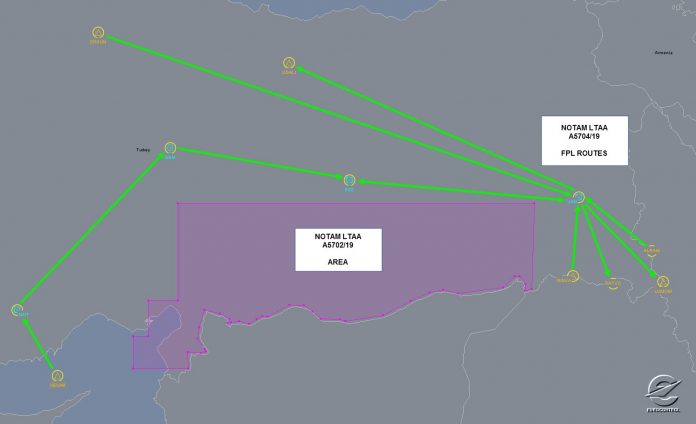 3- Flights are leaving from a base in Diyarbakir
image from above report
"Erdoğan said the offensive, dubbed "Operation Peace Spring", would aim to eliminate threats from the Syrian Kurdish YPG militia and the Islamic State militants, and enable the return of Syrian refugees in Turkey after the formation of a "safe zone" in the area."
4- Syrian officials  were notified through diplomatic channels

"Turkish foreign minister says Ankara sent a diplomatic note to the Syrian consulate in Istanbul to inform them of the operation into northeast Syria."
"Germany's foreign minister is condemning Turkey's offensive in northern Syria and called on Ankara to end the military action, saying it threatened "a further humanitarian catastrophe and further displacement of persons."
Must be where MoA gets their talking points? I question why it is Germany's FM didn't care whilst the US and their Kurdish allies were creating a humanitarian catastrophe?
6-  There has been rocket fire into Turkey from  occupied Syrian territory

"Six rockets fired from Syria's Qamishli landed in the centre of the Turkish border town of Nusaybin, state-owned Anadolu news agency said on Wednesday."
 7- Two mortar shells hit Turkey's border town of Ceylanpinar, but there were no casualties, Turkish broadcaster NTV said.
8--Observation from Abdullah

Hi Penny.

I'm keeping close ears to the latest developments and will try and comment when possible. My phone keypad has stopped working and has been playing up for a while.

Thanks for our updates.

Not sure what is exactly going through Trumps mind. It is interesting his recent tweet spoke about the futility of US wars in Middle East and we went there on a false pretext. Quite staggering for a US president admitting this. Lots of the usual suspects coming out strongly against him. Staggering!

Anyway, lots of crocodile tears emanating from the West already within a few moments of Erdogan's tweet about start of operation. The coverage is bizzare and quite frenzied. So much destruction in Yemen and they are hardly moved.

So as expected condemnation bells ringing aloud already.
9- UN Security Council to Meet Behind Closed Doors Tomorrow

The United Nations Security Council will meet on Syria behind closed-doors on Thursday, diplomats said, after Turkey launched a military operation against Kurdish fighters in the northeast of the country.
The discussion of the situation in Syria by the 15-member Security Council was requested by the five European members, Britain, France, Germany, Belgium and Poland, diplomats said.
 Russia and China didn't request the meeting.
That would be the usual behaviour for YPG/PKK- A subject that's been covered abundantly here.  Most recently World Council Of Arameans- YPG Use Christian Proxies to Fear Monger Against Turkey

"If there indeed had been Christian victims in Afrin, it could have been Aramean teens snatched from the streets in the Hasakah province by the YPG/Asayesh and sent against their will to Afrin as human shields into a fight against Turkey."
Putrid claims regarding betraying of the Kurds don't fly here. I've amassed enough evidence at the blog to understand, clearly and unequivocally the YPG/PKK/SDF are no innocents.  Including the heavy duty abuse they dish out on non compliant Kurds. All your brainwashing aside. 
11: For all the "green light" disinfo media -And there are so many of you out there
"President Donald Trump said Wednesday the U.S. does not endorse Turkey's military assault on Syria, calling the operation a "bad idea."
Trump's written statement was issued hours after Turkey, a NATO ally, launched an offensive against Kurdish fighters in Syria'
"The United States does not endorse this attack and has made it clear to Turkey that this operation is a bad idea," Trump said."
 And one last link before I head out yet again today..
 Think about the Adana Agreement- It's been mentioned here a number of times- This is what we are seeing in action- That's what I'm seeing in action Below is yet another article discussing the use of Adana as template to settle the Syrian situation.
"Regarding the concern over a potential occupation, Peskov reiterated another Russian principle on Syria, that "all foreign troops illegally present in Syria must leave the country." In policy terms, this means Russia expects Turkey to "satisfy its security need," but to not maintain a permanent military presence in Syria. This is where the Kremlin is likely to draw the line, but this is also where Moscow expects to play a bigger role. By not preventing Turkey from launching its military offensive, Russia exploits Washington's wedges with both Ankara and the Kurds. Russia expects, and not without good reason, to subsequently lead a two-track mediation between the Syrian government and the Kurds, and Damascus and Ankara.
Given the current circumstances, a discussion of a return to the Adana agreement, which Putin reinitiated at the latest Astana trio talks in Ankara, looks even more logical now. Putin brought up the idea publicly earlier this year at a meeting with Erdogan in Moscow and has meticulously promoted it ever since. Turkey's operation will end one way or another, but a subsequent political solution should frame the situation on the ground. Moscow expects Ankara to embrace the Adana agreement as the basis for such a solution, which is Russia's third message to Turkey.
Al-Monitor reported in September that during the Ankara summit, Iran's President Hassan Rouhani supported the Adana agreement. Rouhani said it was potentially "a good template to use to lift mutual [security] concerns and [bring about the] beginning of the end of a bitter era [between Syria and Turkey]."
The Adana agreement has been hashed, rehashed, mentioned, reiterated, restated multiple times by the Astana 3 and yours truly.  It's was at play from the first time Turkey set foot into Syria. Again, see below the links back to the Adana Agreement articles that have been featured here. Yah, I get that the 5 eyes alt and msm hasn't talked about this agreement- but then why would they? The info is available. Read below. Or keep on takin' in the disinfo. It's up to you.
Previously discussed has been this idea of the Adana Agreement being in play, present time, in Syria. I've read claims that allege Turkey is sending slews of fighters to block SAA in the Hama/Idlib area. That seems not likely for a number of reasons already mentioned. 
 If we also consider the possibility that Turkey is 'poised to expand' eastward, which would be Adana in action, then it's not likely Turkey is behind any mass movement of fighters towards the region that SAA is retaking.