The Douma Hoax: Anatomy of a False Flag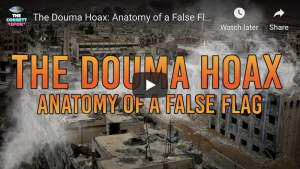 As whistleblowers and documents continue to destroy the narrative surrounding the alleged chemical weapons attack in Douma, Syria last year, it is becoming increasingly apparent that this false flag event has been exposed. This week on The Corbett Report podcast, James goes through the remarkable timeline of the Douma hoax and breaks the spell that the propagandists have sought to cast on the public.
Dear friends of this aggregator
Yes, I intentionally removed Newsbud from the aggregator on Mar 22.
Newsbud did not block the aggregator, although their editor blocked me on twitter after a comment I made to her
As far as I know, the only site that blocks this aggregator is Global Research. I have no idea why!!
Please stop recommending Newsbud and Global Research to be added to the aggregator.